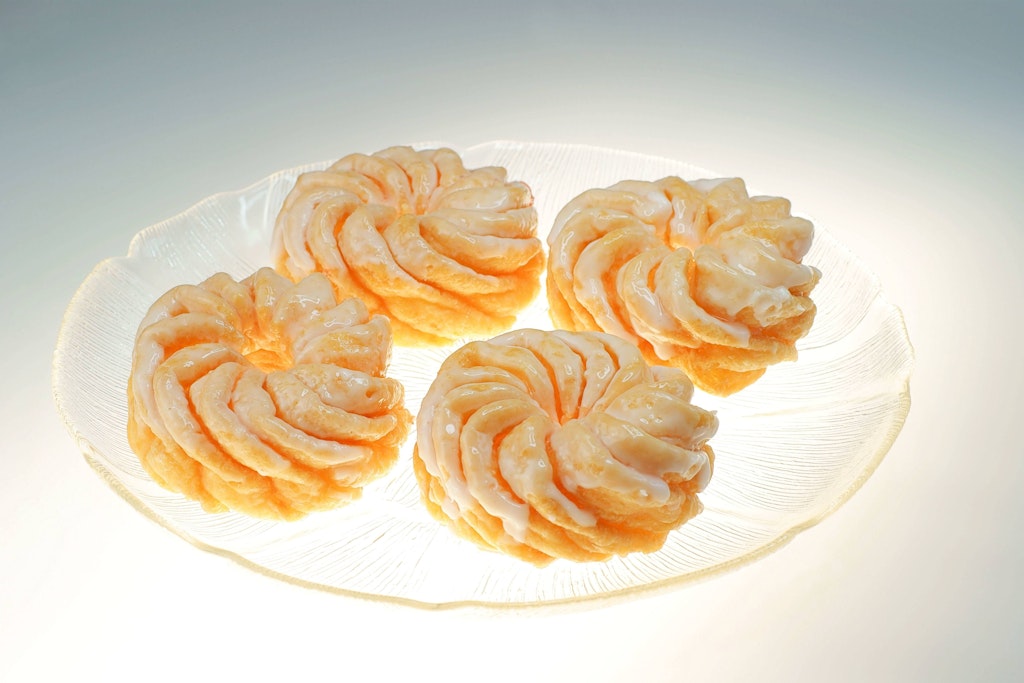 No matter what you call it, spritzkuchen, spritzringe, casserole dumplings, fat dumplings or lard dumplings: this sticky-sweet dough classic (invented in Eberswalde in Brandenburg) always tastes delicious. Because the dough is fried in hot fat – so it is not only very soft, but also airy like a cloud – simply irresistible! The KURIER reveals how you can quickly and easily prepare the delicacy of grandma's days yourself – according to the original GDR recipe.
Read also: Pasta with chanterelles – the quick recipe for pappardelle e finferli: Ingeniously simple and sooo delicious! >>
Also read: Brilliant lightning recipe: cheese soup – simple, quick and damn tasty!
Ingredients for the delicious spritz rings
You need: 150 grams of flour, 25 grams of cornstarch, 5 eggs, 60 grams of butter or margarine, 1 equal teaspoon of baking powder, a pinch of salt, for the icing: mix 150 g of powdered sugar and 3 tablespoons of lemon juice or water, in addition to that: Fat for grilling and baking paper
Also read: Delicious recipe for pasta salad: This colorful classic belongs on every barbecue buffet! So easy and quick to make – and so delicious >>
And this is how the splash rings are made:
1. Bring 250 ml of water with the butter or margarine to boiling point in a saucepan.
2. Now add the flour mixed with the cornflour all at once and stir vigorously.
3. Continue stirring over low heat until the dough ball separates from the pan.
4. Now put the dough ball in a bowl and fold in the eggs one by one and mix everything with a spoon or dough hook. And so long until the dough tears off the spoon in long peaks. Now the baking powder is stirred in.
Also read: GDR recipe: Do you still know Prasselkuchen? This cake classic is simply delicious! >>
5. Fill the batter into a piping bag. Select the large tail.
6. Pipe a ring onto a piece of greaseproof paper (cut into squares of approximately 8 x 8 cm) that has been dipped in hot oil and place the paper in the oil until the dough separates and the popsicles are golden brown. Then drain on kitchen paper. Continue like this until all the dough is gone.
7. Now cover the finished spritzkuchen with the icing. Finished!
Enjoy your meal!
By the way: On February 23, 1832, the Berlin confectioner and gingerbread maker Gustav Louis Zietemann received permission to establish himself as a confectioner in Eberswalde. On April 1, 1832, he opened his confectionery and offered Eberswalder Spritzkuchen for the first time. Almost 190 years ago, he discovered that the choux dough rings come out better if they are baked in floating fat rather than on a baking sheet. The specialty is still popular today.
From 1842 he delivered his spritzkuchen to the station, where the new Berlin-Stettin railway had been running since 1 August. The Spritzkuchen became an advertising medium for the town and many travelers associated the name Eberswalde with the Spritzkuchen. To commemorate Zietemann, there is today a bronze statue in the Eberswalde train station.
Also read: GDR classics: Do you still know Buchteln? With this recipe they taste like grandma made them
And did you know: In 2018, Jenny I. was elected Eberswalde Spritzkuchen queen. She also knows her product from her main job: Jenny Bechly-Günzel is a trained confectioner. "It's amazing what delicacies can be made from just a few raw materials," she said at her coronation. Master baker Björn Wiese came up with the idea of ​​choosing a spritzkuchen queen. "A piece of history must be remembered," he said.