Delicious apple meets cinnamon and pudding – what could be more delicious? Maybe a few sprinkles on top – and the cake dream is perfect. Don't you believe? Then be sure to try our incredible recipe for apple mousse cake just like grandma used to make.
Also read: It can't be faster: delicious and juicy lemon yogurt cake – the 3-minute recipe >>
Ingredients for the apple mousse cake
You need: for the dough: 220 grams of flour, 100 grams of sugar, 100 grams of butter, 1 egg, 1 teaspoon of baking powder; for the filling: 2 apples, 800 grams of applesauce, 1 packet of vanilla pudding powder, 2 tablespoons of apple juice, 1 tablespoon of sugar, 1 teaspoon of cinnamon; for the crumb: 150 grams of flour, 80 grams of sugar, 80 grams of butter
Also read: Cake without baking: Oreo cheesecake, chocolate biscuit and birthday cheese – three lightning-fast recipes! >>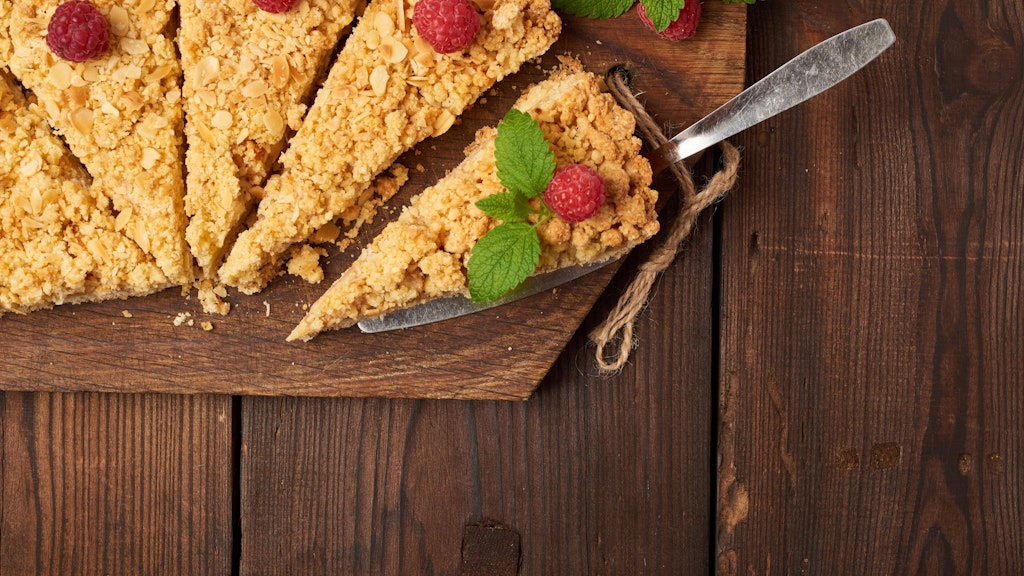 Also read: Salad with Brussels sprouts and asparagus: This delicious recipe combines winter with spring >>
This is how the apple mousse cake is made
This is how it is done: Preheat the oven to 180 degrees (top and bottom heat). Line a springform pan (26 cm) with baking paper. Tip: Hold the baking paper under running water, crumple it up and wring it out. Then it can be easily adjusted to the shape.
Mix all the ingredients for the dough in a large bowl to form a dough. Press the dough into the spring form and form a small border.
Wash the apples, peel, remove the core and cut into slices. Sprinkle with cinnamon and sugar. Spread half of the apple slices over the dough.
Mix pudding with apple juice. Bring the applesauce to the boil in a saucepan and stir in the pudding. Remove from the stove and let the applesauce thicken. Spread the mixture over the cake and cover with the second half of the apple slices.
Mix all the ingredients for the crumbs with the dough hook of the hand mixer. Sprinkle the sprinkles over the cake. Bake cake for 45 minutes. Let cool and enjoy. Enjoy your meal!
Also read: Bake delicious "Americans" yourself: With this secret ingredient, they are super juicy! >>
.