Tasty & airy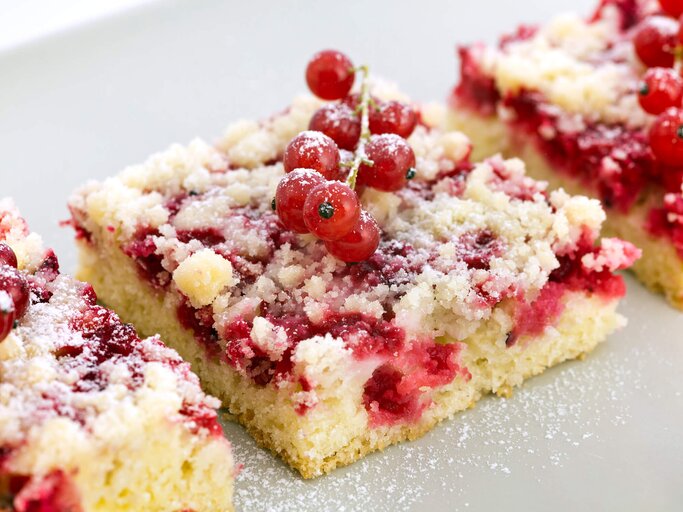 Juicy, fluffy and refreshing: this is how the currant cake from the tin works.
© Getty Images/Josef Mohyla
Not too sweet, but still delicious: currants are especially good in summer cakes thanks to their pleasant acidity. If visitors suddenly announce themselves, this recipe is quick to make and simply delicious!
They give the cake that certain something and pure currants (whether red, white or black) are really healthy. They are rich in vitamin C and provide important nutrients such as potassium and iron. The small berries are also very low in calories, making them an ideal snack between meals.
Preparation:
Line a deep baking tray or large rectangular baking pan with parchment paper.

Sort, wash and pick the currants. Set aside in a bowl.

Separate the eggs and beat the egg whites until fluffy. Gradually add half the sugar and then continue to beat the egg whites until the sugar has dissolved.

Wash the lemon in hot water, grate the peel and squeeze out the juice.

Meanwhile, preheat the oven to 160 degrees top/bottom heat.

In a large mixing bowl, combine the butter with the remaining sugar, salt, lemon juice and lemon zest. Stir in the egg yolks gradually.

Pour the flour, baking powder and starch into the butter-sugar mixture through a sieve and mix everything into a homogeneous mass. Finally, carefully fold in the egg whites with a spatula.

Now spread the dough on the baking sheet, then spread the currants on the dough and finally add the flaked almonds.

Bake the cake in the oven for about 25 minutes and sprinkle with powdered sugar before serving.
Also interesting:
Lose weight with oats: healthy lemon pie
Moist chocolate cherry cake without sugar