Pizza dough like in Italy – every amateur cook gets enthusiastic about it. Especially those who have already enjoyed a pizza in Naples. When preparing the dough, it is of course important to use the right ingredients and, above all, the right flour. We reveal the Neapolitan recipe for pizza dough.
Pizza like in Italy: The ingredients from Campania – buffalo mozzarella (Mozzarella di Bufula Campana DOP) and aromatic San Marzano tomatoes from the Phlegraean lands on the edge of Vesuvius) refine every pizza. But the base, the pizza dough, must also be right, after all the Neapolitans also use a special flour for their pizza dough. The Scuola Bianca in Campania now reveals the classic original recipe for the perfect pizza dough.
Exclusively for pizza, there is an extensive range of different types of flour flour type 0 from the traditional flour mill Pizzuti, which makes every pizza dough a success.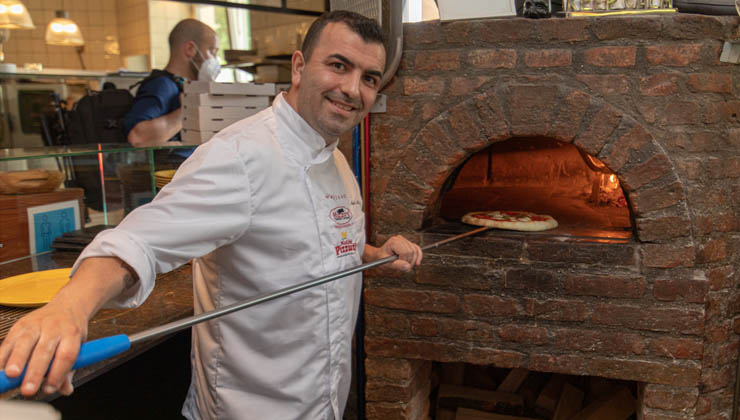 Here is the basic pizza dough recipe for a Pizza Napoletana, which can be topped in different ways.
Ingredients for the original Neapolitan pizza dough
1 kg Molino Pizzuti type 0 flour
30 grams of salt
5 g brewer's yeast
650 ml lukewarm water
Pizza dough – the preparation
Place the flour on a baking board, sprinkle with salt and make a well in the middle. Beat the yeast with some of the lukewarm water. Pour into the well and gradually add the remaining water.
First mix the flour with the water with your fingers, then knead with warm palms until the pizza dough is elastic and slightly shiny. Place the pizza dough in a bowl, cover with plastic wrap and leave to rest in the refrigerator for 24 hours.
The pizza dough can then be shaped into a pizza and topped to your heart's content – preferably with other original ingredients from Campania – and baked in the oven.
Enjoy your meal!
Background: The Scuola Bianca in Campania
The task of the "Scuola Bianca", which has existed since 2005 and is sponsored by the Campania region, is to train those interested from all over the world in the following professions: pizzerias, bakeries, confectionery, fresh pasta.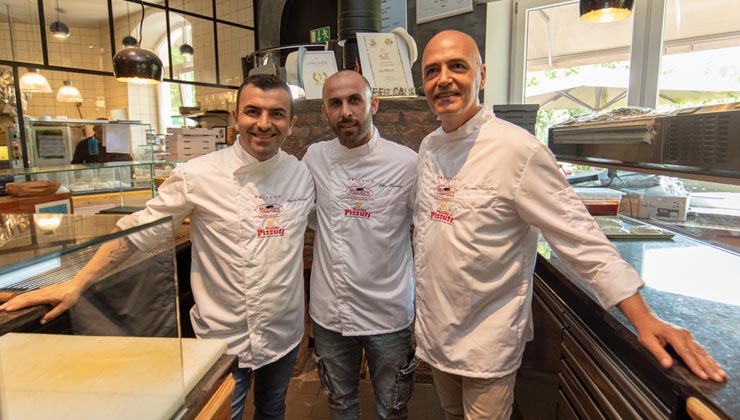 Pizzaoli and trainers at the Scuola bianca: Angelo Mondello, Vito Monaco and pizza world champion Luciano Sorbillo (from left to right)
Above all, the participants are taught the traditional production of genuine Italian products in the four professional areas. An important part of the training or further education is to promote awareness and the importance of the Italian raw materials used. Another area is agri-food research and the expansion of digital transformation.
The focus of the "Scuola bianca" is on the tradition and the territory of the Campania region, but always with a view to innovation in all areas. The school is based in Montecorvino Rovella, a mountain village at 220 m above sea level in the province of Salerno/Campania.
More information at: www.scuolabianca.it
.