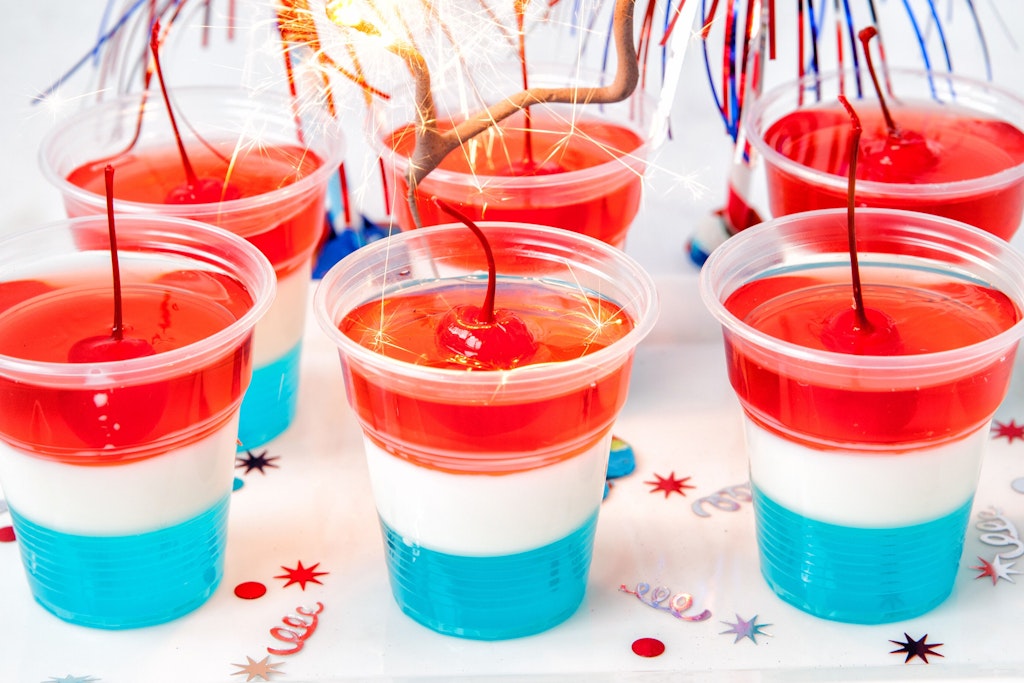 People love to have a glass at parties – but: Have you ever "had a glass"? A hit at many celebrations, whether it's Halloween, birthdays or bachelorette parties: Jello Shots! It is jelly in various flavors, in which part of the water is replaced with alcohol during preparation. Here are the best dessert tips for adults: How to make delicious jello shots yourself!
Also read: Pizza Calzone – the ingenious recipe for the Italian way of life! Very easy to do and without the stuffed cardboard effect! >>
Also read: Kilokick for the beach body: With this recipe you lose five kilos in nine days >>
Recipe for jello with alcohol: It's really easy
The basic recipe is very simple: ready-to-eat jelly powder is used, which is available in every supermarket. Common flavors include, for example, raspberry, woody or lemon. 500 milliliters of water is usually used for one bag of jelly powder. With jello shots, 100 to 200 milliliters of the water is replaced with schnapps, depending on taste and desired strength.
Also read: Try stuffed pickles like grandma cooked them! Here is the recipe – so easy to make and so delicious >>
The following applies: Anything that tastes good is allowed! The classic is vodka, but white rum can also be used. The only important thing is that the alcohol should not be heated too much, otherwise it will evaporate. So: It is best to mix the jelly powder with sugar and, for example, 400 milliliters of water according to the instructions on the packaging, heat it and only stir in the schnapps when the jelly is "ready".
The jello with alcohol is best served in shot glasses. Small plastic or cardboard cups are commercially available. The jelly mixture can be easily filled with a measuring cup. Then the small jars should be put in the fridge, because it takes a while for the jelly to set. The "jello shots" are best served with a toothpick each – you can use it to loosen the jelly at the edge and then slide it out of the shot glass into your mouth.
With these tricks, the "Jello Shots" are even smarter
If you want to make your Jello Shots a little smarter, you can also hide little "extras". Example: The raspberry variant can be deliciously refreshed by adding a raspberry to each glass before filling the jelly. Pickled cherries look good in the lemon jelly. Or: If you prefer wooden back, you can sink a fruit jelly frog into each jar. If you also prepare different types and serve them on a large plate, your shots will be eye-catchers.
Also read about this now: Delicious cinnamon pancakes: The breakfast for everyone for whom pancakes are not yet sweet enough! >>
But beware: the shots should be enjoyed with caution despite their spicy taste. Because: Due to the content of aromas and sugar in the jelly, you don't notice the alcohol as quickly. So: Don't eat too much of it, otherwise you'll get a bad hangover the next day…