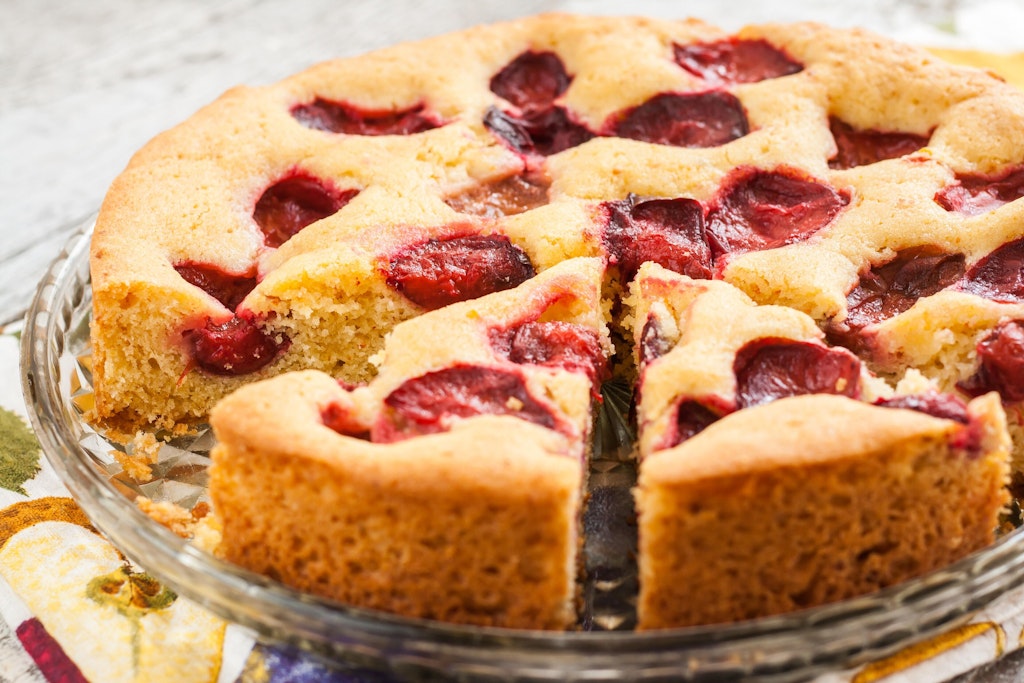 They are all over the fruit shelves in the supermarket right now: shiny, purple, juicy plums! In small baskets and at good prices, the chubby fruit invites you to conjure up the most beautiful things with it… and of course many hobby bakers first think of a plum cake. But: It doesn't always have to be the difficult yeast dough – this ingenious sponge cake with fresh plums tastes delicious and is also baked super quickly. Here comes the recipe.
Also read: Incredibly creamy and fruity! Plum Cheese Cake Recipe: This simple and sweet cake is a hit >>
Recipe for quick plum cake: This is how it gets really good
This cake is even perfect when spontaneous visitors come to drink coffee, because the dough is quickly mixed together and quickly baked. The cake tastes heavenly while it is still warm.
Also read: The best instant cake for the weekend: With this ingenious recipe you can conjure up a super light berry cake or plum cake from the tin! >>
Serve with a scoop of vanilla ice cream and a large dollop of freshly whipped cream. You will be surprised how good the cake tastes – and how good this dessert is in the afternoon with a cup of coffee. Here comes the delicious recipe.
Also read: Recipe for plum cake completely different: do you know plum crumble? With vanilla ice cream, it becomes a heavenly dessert that melts in your mouth >>
Ingredients for Plum Cake: This is what you need for this
You need: 200 grams of flour, 3 teaspoons of baking powder, 1 packet of vanilla custard powder, 1 packet of vanilla sugar, 3 eggs, 1 pinch of salt, 150 grams of butter, 50 milliliters of milk, 10-15 prunes, cinnamon to taste
Here's how it works: Place the flour in a large mixing bowl and mix with the baking powder, sugar, vanilla sugar, a pinch of salt and the vanilla pudding powder. Add the soft butter and the eggs and beat everything with a hand mixer until fluffy. Stir in the milk gradually – at the end you should have a lovely soft dough.
Also read now: Berliner Luft with raspberries – simply delicious! With this GDR classic, you can snack on the upcoming warm days in no time >>
Line a spring form with baking paper and preheat the oven to 180 degrees. Add the batter and smooth. Wash the plums, halve, pit and halve the halves again to create plum quarters. Place them on top of the dough and press in gently. Tip: If you want, you can now sprinkle the top of the cake with a mixture of sugar and cinnamon, which gives a sweet crust at the end.
Also read: Incredibly delicious: recipe for plum cake with custard and sprinkles! It's so easy to bake the world's best fruit cake >>
Place the cake in the oven and bake in the oven for about 35 minutes. Then take it out and use the chopstick test to determine if the dough is cooked. It's very simple: insert a wooden stick into the cake. If nothing sticks to it when you pull it out, the cake is ready. If there is still moist dough on the stick, the cake needs to bake a little longer. Allow the cake to cool slightly and serve while still warm. Enjoy your meal!
Also read: Amazing recipe: 7-cup ham, egg and potato salad! This salad is perfect for the barbecue >>