10,228
Apricot cake made from batter: recipe for cakes with fruity topping
By Aline Neissner
Apricots are also known as apricots. Regardless of whether you call it apricot cake or apricot cake, this sponge cake tastes simply fruity and delicious.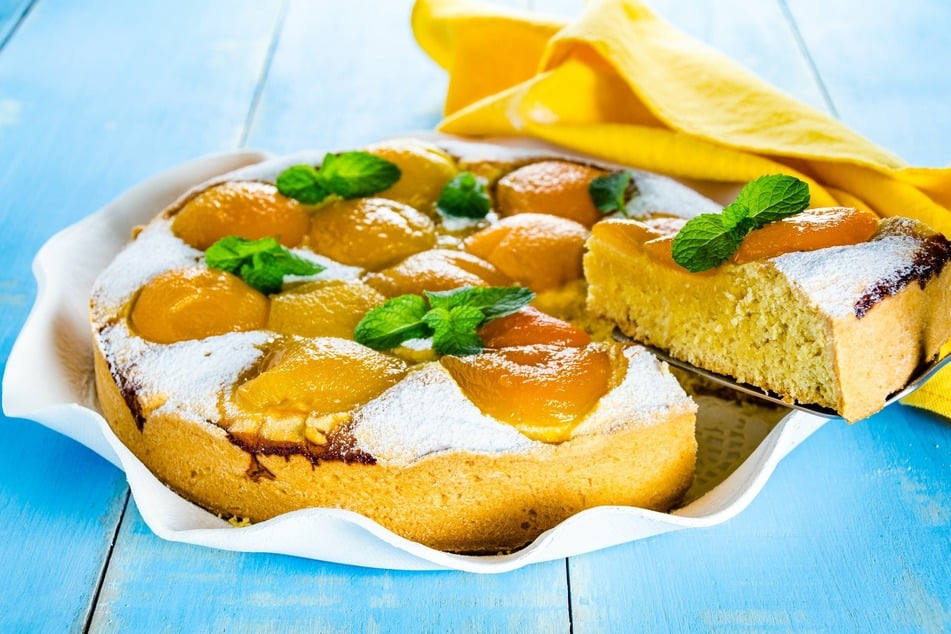 Our grandparents already baked cake recipes with batter and are therefore among the real classics. They not only taste delicious, but are also very easy to prepare.
This simple cake made from sponge cake can be topped with many different fruits, depending on what you like or what fruit is in season.
Apricots give the cake a delicate, sweet and aromatic note. However, they do not only shine in desserts, but are also ideal for salads and hearty dishes. And the best part is: Apricots are really healthy. They not only provide many nutrients, but also contain many vitamins.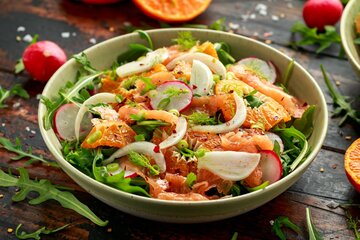 recipes
Fennel salad with oranges & smoked salmon: hearty, crunchy, delicious
With TAG24's step-by-step guide, you can create a simple and classic recipe for an apricot cake made from batter. Practical tips also help to ensure that nothing can go wrong during preparation.
Apricot cake: recipe

To bake this apricot cake recipe, you will need a cake pan (26 centimeters in diameter), a mixing bowl, a mixer, a grater and a saucepan in addition to the ingredients listed.
To prepare, preheat the oven to 180 degrees top/bottom heat (160 degrees convection) and grease and lightly flour the springform pan.
Recipe for Apricot Pie | ingredients

For the batter:
160 grams of butter, soft
230 grams of flour
130 grams of sugar
80 milliliters of milk
4 eggs
2 1/2 teaspoons of baking soda
zest of half a lemon
For coating:
Recipe for Apricot Pie | preparation

1. Step: For the attachment first add the softened butter and sugar to a mixing bowl and beat until fluffy for a few minutes. Then gradually stir in the eggs and lemon zest.
2. Step: Now the flour and baking powder are mixed together and alternately mixed with the milk into the butter-sugar-egg mixture. Enough milk should be added until the dough has a stretchy consistency and does not tear when pulled apart.
3. Step: When the dough is ready, it can be poured into the baking pan.
4. Step: For the fruity topping the apricots are peeled, pitted and halved. The halves are spread on the dough and only need to be pressed in very slightly so that they do not disappear into the cake.
5. Step: The cake is now in the oven and should bake for about 35 to 40 minutes. To see if the dough is ready, you can do the chopstick test after about 35 minutes.
6. Step: Meanwhile, bring the jam and water to the boil in a small saucepan. If there are still pieces of fruit, the jam can be rubbed through a sieve beforehand.
7. Step: When the cake is finished baking, you can spread the jam on it while it is still warm.
8th. Step: Let the cake cool, sprinkle with powdered sugar, serve and enjoy.
Apricot batter cake: tips and variations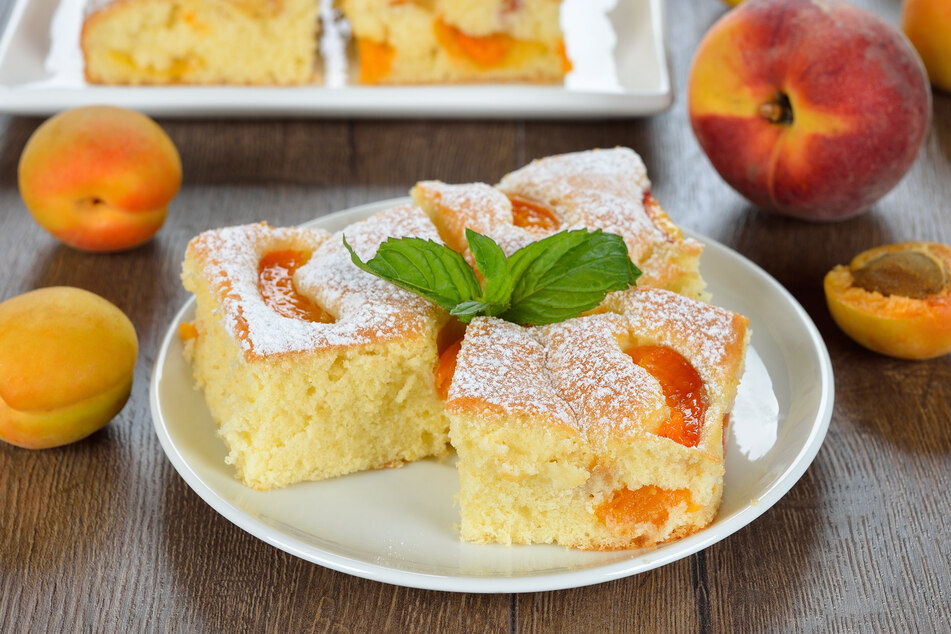 1. Clue: For a nutty taste, about 100 grams can be ground in the second step Almonds added shall. You simply take the corresponding amount of flour less. At the end, lightly toasted flaked almonds can be spread over the finished cake.
2. Clue: Around peel apricots the skin is first scored in a cross shape at the base of the trunk with a sharp knife. The fruit is now placed in boiling water for about a minute. The apricots must then be immediately quenched with ice-cold water. When the fruit has cooled slightly, you can use a knife to peel the skin from the tip.
3. Clue: As an alternative to fresh apricots, you can of course also use fruit from a can or jar. However, the fruit must drain properly so that the cake does not become too moist. The drained fruit juice can then, for example, be exchanged for the water in step 6.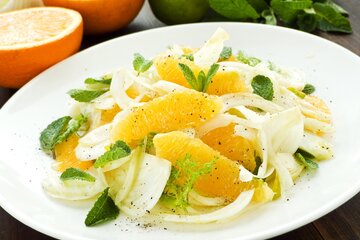 recipes
Fennel salad with oranges: The classic is made quickly
4. Clue: For the so-called chopstick test you will need a wooden dowel. It is put into the cake just before the end of the specified baking time. If leftovers stick to the skewer, the cake should stay in the oven for a while.
5. Clue: If you notice during baking that the fruit sinks too much into the cake, you can put a few halves or slices on top.
6. Clue: Well wrapped, the apricot cake will keep in the fridge for at least two days. You can also freeze it (preferably in chunks).
7. Clue: This sponge cake can also be alternated with other fruits as you wish. For example, apples, peaches or rhubarb are super tasty.
TAG24 wishes you lots of fun and success with baking, but above all a good appetite!
Cover photo: 123rf/photo66